REVIEW CONSTRUCTION
MARILYN YPES ARCHITECT INC. HAS OVER 35 YEARS OF EXPERIENCE IN REVIEWING CONSTRUCTION PROJECTS.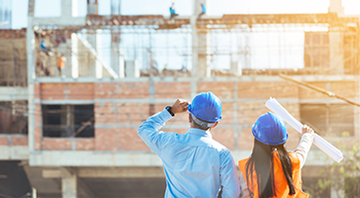 Site review is a periodic visit of checking the work on site and ensuring the compliance with specifications and drawings and that instructions are being carried out.
Construction projects involve the co-ordination of a great number of people, materials and components. Regular inspection is a crucial part of ensuring that the works progress as intended, both in terms of quality and compliance. Inspections will be carried out for a number of different purposes throughout the duration of a project.
Our construction review process is separate from the contractor's own supervision of the works. Review of the construction works will be carried out as they proceed to verify compliance with the requirements of the contract documents.
Specialist inspections may also be necessary for specific aspects of the project such as; the client's environmental policy, site waste management plan, accessibility, and so on.
Reports to the Owner for Payment.
We also review construction on behalf of building Owners to certify the amount of work done on the site as compared to the amount of payment the Contractor is requesting.  This is to ensure that there is no overpayment made to the Contractor.  It also verifies to the Owner the progress and financial status of the project.
Payment certificates are mainly used in the construction projects as the documents verified by the construction project owners, architects or engineers to keep an account of the work completed and is approved by the contractor.